Posted by Carolyn Dufton on 21 June 2012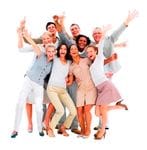 If franchising is not fun, as a franchisee or a franchisor, identify why not and then do something about it.
Today I attended a networking breakfast.
I've never met with this group of people before.
As we went around the room and introduced ourselves, I realised that out of 18 attendees the room contained 5 franchisees.
Taking every opportunity available to talk to franchising colleagues, I seized the moment to ask a few of the franchisees about their franchise systems and their individual businesses.
It was heartening to speak to franchisees who loved their businesses and were thriving on the camaraderie that existed in their franchises.
One lady explained that their 2012 annual conference was in Thailand and that all the franchisees were thrilled and excited to be attending this "get together". She went on to say that the attendance rate to this conference was 80%. Regional meetings were always well attended and eagerly anticipated.
This Franchisor and the franchisees need applauding!
So what happens when franchisees are not having fun? There will always be some franchisees that are not happy in a franchise system.
The unhappy franchisees tend to be the franchisees that will not participate in group events and even allow themselves to get to know and have fun with the other franchisees.
A wise Franchisor and the team will take the time to identify the root causes for the franchisee's attitude. It could be as simple as the franchisee being an introverted person, but quietly happy with their business.
Engaging with a franchisee and having a meaningful conversation may assist in providing clarity about the franchisee's attitude which can benefit both The Franchisor and the franchisee.
An unhappy franchisee can be the bad apple in the basket that starts turning others sour.
Franchisors can find dealing with a disillusioned franchisee to be so difficult that they ignore the problem and allow the franchisee to become an island.
My advice is for Franchisors to get to the root of the problem with the unhappy franchisee as quickly as possible and if the problem isn't "fixable" encourage the franchisee to exit the system with minimal fallout.
Franchisees who involve themselves in franchise gatherings benefit in so many ways;
They find camaraderie amongst other franchisees.
They realise that the challenges they've been having are often the challenges of many. This provides comfort.
They are able to brainstorm challenges with other franchisees and The Franchisor.
They can offer support to other franchisees and in turn receive support.
Franchisees are genuinely interested in each others' businesses.
Other successful franchisees can provide inspiration.
They are provided with ongoing education and training.
The value of franchisee "sharing" of experiences cannot be over estimated.
FRANCHISEES HAVE FUN!
But more seriously, what happens when The Franchisor stops enjoying the business?
I know disillusioned Franchisors exist because I've spoken to many.
A Franchisor cannot discuss or share their own challenges with the franchisees. Being a Franchisor can be a lonely and isolated place.
A disillusioned Franchisor should seek objective guidance and advice from someone who understands franchising.
The Franchisor sets the culture for the franchise, and it's likely that if a Franchisor isn't having fun, neither are the franchisees.
So if franchising and fun are not synonymous in your business, maybe it's time to exit?
© franchisingplus
All rights reserved. No part of this publication may be reproduced or transmitted by any means, electronic, photocopying or otherwise without prior permission of the author as permitted under the copyright act.