Posted by Carolyn Dufton on 21 September 2015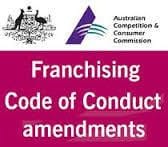 If you're a franchisor and you've been delaying updating your disclosure document, well I'm sorry to tell you that your time is up.
From 31 October 2015 all franchisors are required under the 2014 Franchising Code of Conduct, to supply the updated version of the disclosure document to new franchisee prospects and to existing franchisees who wish to have the new version for their records and information.
Remember that according to the code, if an existing franchisee requests a copy of the disclosure document you must provide this within 14 days of their written request.
The new ACCC disclosure document is now a simpler version of the previous 2010 document.
Franchisor and franchisee obligations have been removed making the disclosure document a much shorter version of the previous lengthy version.
If you have a Master franchisee arrangement, you will be relieved to hear that you no longer have to provide two disclosure documents. All the details pertaining to the Master franchise arrangement are contained in the one disclosure document.
However unfortunately, because the numbering has changed dramatically, it is a time consuming laborious process to transpose the old disclosure document information into the new format. Don't leave it to the last minute thinking it's going to be a simple task.
As you are revisiting your disclosure document, maybe this is a perfect opportunity to review your disclosure document in its entirety.
Is it complete and are all questions fully answered?
Is the information current? Do you have any staff or personnel who need to be included in the disclosure document?
Are all your franchisees both past and present correctly noted?
Do the fees agree with the franchise agreement, operations manual and marketing material?
Is there anything in your disclosure document that could be construed as misleading or deceptive?
My vast experience in reviewing pre purchase franchising documentation indicates that 90% of the documentation I peruse is incorrect and or incomplete. The size of the company has no bearing on the content being accurate and clear. There are no excuses for large Franchisors with 'legal departments' supplying incomplete documentation, but it is common practice.
The provision of sloppy, confusing, incomplete documentation can ruin a sale.
The supply of correct franchising documentation is not only prescribed by The ACCC, it is a responsible approach that all Franchisors should be embracing as part of an effective franchising recruitment process. Professionally supplied franchising documentation speaks volumes about a Franchisor and their commitment to the franchising proposition.
If you're a Franchisor and are not 100% satisfied that your franchising documentation is professional and represents your brand, seek external advice.
© franchisingplus
All rights reserved. No part of this publication may be reproduced or transmitted by any means, electronic, photocopying or otherwise without prior permission of the author as permitted under the copyright act.