Posted by Carolyn Dufton on 28 January 2015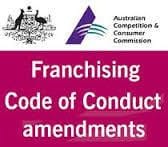 The new franchising code of conduct has been released and is effective from January 1 2015.
The question on everyone's lips is, will the changes to The Code make any meaningful difference to the Franchising Industry and the behaviour of renegade Franchisors and franchisees?
The inclusion of Good Faith is of enormous significance to the franchising industry.
This obligation will apply not only during the term of a franchise agreement, but also during pre-agreement discussions and negotiations and disputes after termination.
Parties cannot "contract out" of the good faith obligation.
What does Good Faith mean?
In very simple non legal terms, Good faith means both parties to the agreement, i.e. the franchisor and the franchisee, act honestly, co-operatively and not arbitrarily. It is a sincere intention to deal with others.
Both parties should cooperate to achieve the purposes of the agreement.
Franchisors are regularly publicly criticised for their poor handling and management of franchisees. The media love a 'hard done by' franchisee story.
There is little media interest in a nightmare franchisee, yet I often see and hear examples of franchisees working against the spirit of the franchise system and being unreasonable with the Franchisor.
It is heartening to note that franchisees will now be held accountable for acting in bad faith to The Franchisor or the franchise system
Good franchising is a two way street.
There has to be co-operation and respect between The Franchisor and its team and the franchisees.
Can co-operation and respect be enforced through The Franchising Code of Conduct? Despite the inclusion of Good Faith I think not.
Franchisors in the very first instance, should enter franchising with an objective to create a fair and equitable franchise system. One in which a franchisee has the ability to profit and flourish as a business person.
Any responsible franchising professional when working with a prospective franchisor will first ascertain if a profitable system is possible to achieve and if it is, assist their client to create a healthy, respectful system.
Prospective franchisees need professional advice pre-agreement, to ascertain whether they are suitable franchisee material. Some people are just not suited to following a franchise system and working in a team environment.
Franchising professionals play a big part in communicating honestly with their clients and educating them about the reality of franchising either as a Franchisor or a franchisee.
Franchising when conducted responsibly by both Franchisor and franchisee is an incredibly effective method of building a brand and distributing a product or service.
Everyone can win in franchising; The Franchisor, franchisee and the ultimate consumer.
Any improvement to franchising such as the revised Code of Conduct is I believe essential to our quest for best franchising practice.
Will the new Code of conduct solve all our franchising problems? Of course not, but it may help reduce them and every little helps.
© franchisingplus
All rights reserved. No part of this publication may be reproduced or transmitted by any means, electronic, photocopying or otherwise without prior permission of the author as permitted under the copyright act.