Discover Your Franchising Potential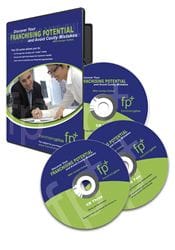 with Carolyn Dufton
In this comprehensive and easy to understand 3 part Franchising audio series, Carolyn Dufton will guide you through the many avenues of Franchising your business. Facilitated by Janet Beckers from The Wonderful Web Group.
This CD series allows you to:
Cut through the red tape and "clutter" easily.
Choose the right franchisees for maximum results.
Learn how to maximise your financial opportunities.
Hosted by Janet Beckers, Carolyn Dufton has provided us with a "warts and all" "no holds barred" look at franchising. You will learn how to assess your potential as a Franchisor and be educated on the pros and cons of the franchising industry.
CD ONE
Looks at Identifying Franchise Opportunities.
How to identify and nurture the "big things that matter"

CD TWO
Explores franchising relationships.
An often overlooked yet vital ingredient of successful franchising.

CD THREE
Show me the money!
Explains how and where the money is.

This Audio program has already helped many business owners. See what a few of them have to say about it below:
"This refreshingly honest interview series can save business people a great deal of money by learning about the reality of franchising before rushing in un-informed." - Sharon Tieman Madame Marketing
"As the challenge and opportunities that franchising presents is largely misunderstood by the average business person, this CD program provides a very practical, easy to understand and refreshing approach that would be beneficial listening to any business person considering expansion and leverage options for the future of their business. The program has certainly become compulsory listening for my business clients with this in mind." - Peter Close, Personal Business Coach & Consultant Beyond Potential
"The franchisingplus CD program gave me practical information and straight-talking insights about the pros and cons of franchising. Carolyn cut through the hype and enabled me to make sound strategic decisions about the way forward for my business. It became very clear that there are traps for uneducated players in this field."
"In my case, the CDs allowed me to make an informed decision not to proceed with franchising and I am so glad because I might have wasted precious resources pursuing a strategy that was not right for my business. Instead of wasting time and money and perhaps falling into an arrangement that would benefit others but not me, I can now focus on the strategies that will take my business to the next level." - Ann Rolfe Mentoring works
"Carolyn's CD's are a fantastic tool when looking to Franchise. They hold a great deal of information, including all those little things you tend to forget about. We kept our CD's in the car and listened to them whenever we went somewhere, so we finished them in no time at all. We would be happy to advise anyone who is thinking of franchising to listen to these CD's as they will give you a great insight and introduction into the world of franchising." - Luke and Mel www.icprint.com.au
"When I was fortunate enough to meet and engage Carolyn and her team from franchisingplus I was given a 3 piece CD pack which was overloaded with amazing information about the franchising process . it is amazing how useful this pack is and even 6 months down the track I still refer back to it once a week. Well done Carolyn and thanks again for the pack "The Bible"." - Adam Marshall
To be part of this exciting opportunity and to learn more about Franchising in the comfort of your own home / office, order your copy today.